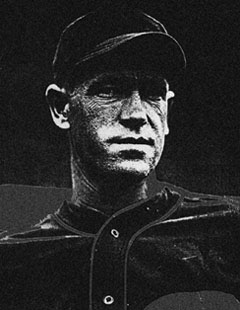 Art "The Great" Shires, who played with Chase in the early 1920s Border leagues, remembered that Chase's still showed the fielding sparks that marked his early years..." When I was sold to his club, he moved to second base so I could play first base. I didn't believe a lefthander could play second base until I played alongside of him. I know he was the greatest first baseman there ever was. I believe he could have been the greatest second baseman if he wanted to. When the ball was hit to the shortstop, for instance, with a man on first and the throw was made to second base, Hal could cut over there, take the throw with his left hand, and backhand it to me to complete a double play without even stopping to look in my direction."

S.L.A. Marshall, for whom Chase played during these lost seasons in the desert, felt that Chase was not inherently criminal, but mentally ill. His story about "Prince Hal" follows...
AN AMORAL MAN There is an old song about the maiden who was "more to be pitied than scorned" and someone ought to make that as the epitaph on Hal Chase's tombstone. It fits the case. He was a strange one in every sense of the word. A natural left-hander who insisted on batting right-handed, a beautiful base runner who continued to go into the bag head first as long as he remained in baseball, a fielder who won praise as the finest defensive first baseman in the history of the game ... such was Chase. All of his life he insisted on doing things the wrong way, but he could do them that way so well that he made all other men appear mechanically imperfect by comparison. He used to pitch once in a while with nothing on the ball but a prayer, but (his) brain was keen enough that that he could mow down a row of .300 hitters, capable of playing in as good company as himself, with the ball coming up there as big as an ostrich egg.